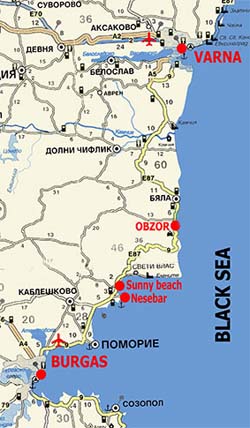 "Obzor-Glaeria" Resort Complex is situated on the border between Varna and Bourgas areas, 60 km south of Varna, 74 km in the north from Bourgas and 37 km from Nessebar. It has access to two near airports - Varna and Bourgas Airports.
The fact that the resort is close to some other resort towns gives an additional possibility for entertainment variety. In concrete: from north-Byala town is 5 kilometers far, Varna is 60 km far, Golden sands resort complex is 75 km far; at 30 km distance is Sunny Beach, Nessebar town is 34 km and Bourgas city is 60 km far from there. There are a lot of restaurants and amusement places in Byala and Obzor, because their location directs the sphere of the communal service mainly to the tourism.
The beach strip is about 10 kilometers long and 30 - 90 meters wide. The sand is golden colored fine granular. It is considered to be the longest beach on our Black sea coast.